Kitchener Waterloo Sherwood Digital Copy & Print
Now that the Premier has introduced Phase 1 of this gradual re-opening of businesses and services across the Province,
our store is now open to the public with safety our Number 1 priority. We limit one customer at a time and encourage payment by e-transfer
or by credit cards only, no cash sales at this time. We are also offering a number of COVID health and safety related products.
For pricing and further information, please call our office at 519-749-0090 or
send us an email to info@kwsherwoodcopy.com
Please stay safe and MASK UP! Protect those around you first.
Thank you and please stay safe.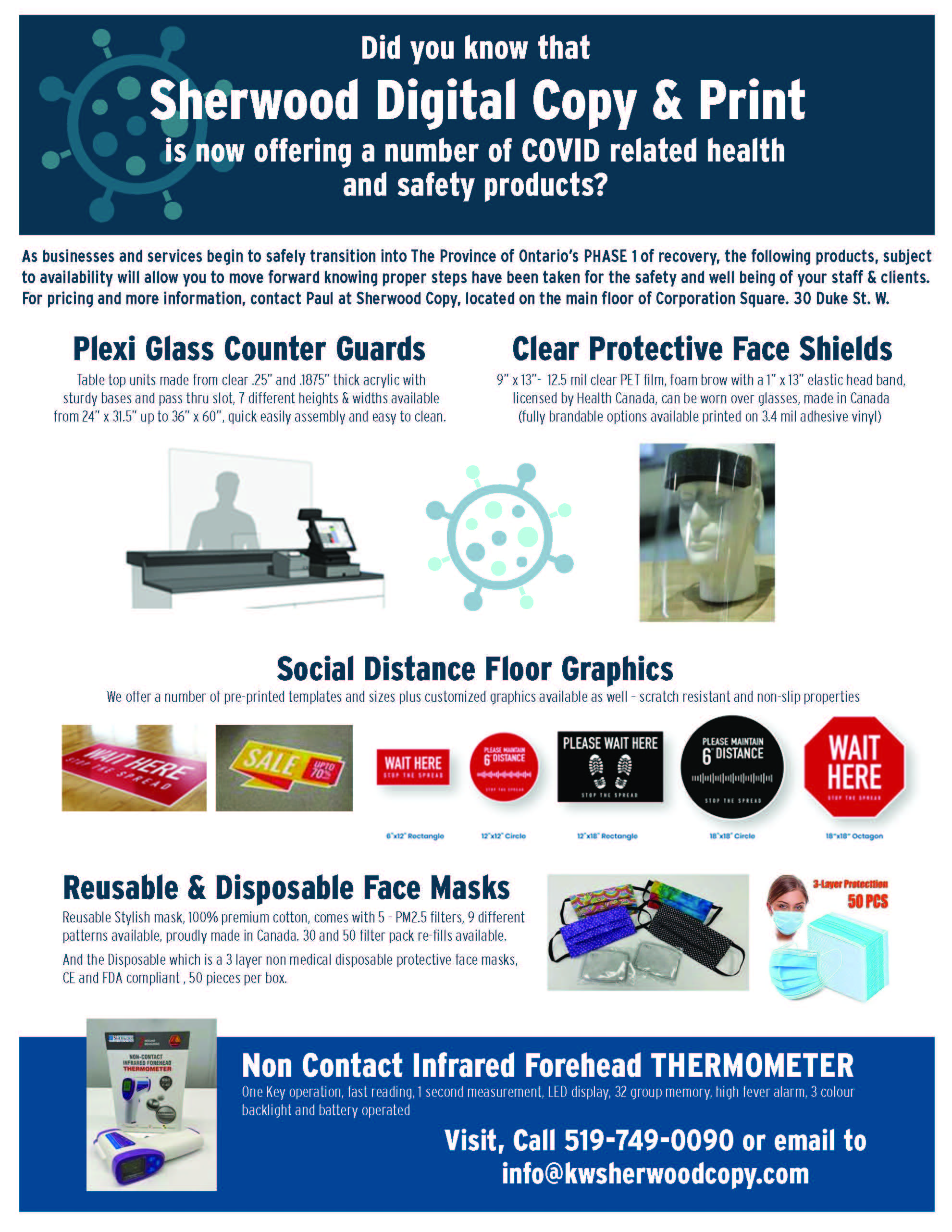 Since the 1st Sherwood Copy location opened in 1984 with a small copy shop located across from Square One Mall in Mississauga, the Sherwood Group has been dedicated to providing customers with fast, friendly service as well as Quality. Through the years Sherwood has expanded to include 14 Digital Copy Centres throughout Mississauga, Toronto, Brampton, Georgetown and Waterloo Region.

Sherwood Digital Copy and Print has the ability to provide its' clients with all of their print and digital needs. No matter how specialized the task, we can guarantee that your job will be done quickly, professionally and at the right price. Our Group's state of the art press house located in Mississauga runs a variety of equipment including Heidelberg offset and Xerox I-Gen5 digital presses designed to quickly provide the best of services to our clients. As a proud member of The Advertising Specialty Institute of Canada, we can offer you direct from the manufacturers 1,000s of award winning imprinted products and services can help you to promote your business. Click here shop online


Located Downtown Kitchener

Free Pickup & Delivery Services *

Friendly Reliable Staff

Serving Waterloo Region For Over 23 Years